Summer Sweets with Dottie
Hi there Hokies, Dottie again!
I have been spending a lot of time in the kitchen baking summer sweets. Quarantine canceled my summer diet, so I figured I might as well make the best of it and indulge in all things summer and sweet. I have found a lot of my summer sweets recipes online and have shared my favorites below. Summer is the perfect time to get together with family and friends (small groups of course,) and munch on yummy snacks. Click on each picture to view the full dessert details.
Recipes
1. Strawberry Pretzel Dessert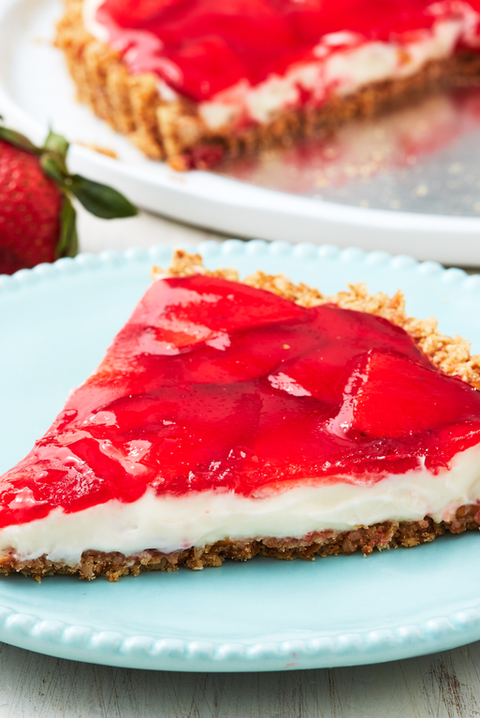 For the pretzel crust
3/4 c.

 
(1 1/2 stick) melted butter
For the cheesecake layer
1

 (
8-oz.) block cream cheese, softened
1 tsp.

 
pure vanilla extract
For the strawberry topping
1 1/2 tbsp.

 
Strawberry Jell-O mix
1 pt.

 
fresh strawberries, sliced
Directions 
Make the pretzel crust:

 

p

reheat oven to 350°. In a large mixing bowl, stir together pretzels, butter, and sugar until combined. Transfer to a 10" tart pan and press firmly into the pan using the bottom of a measuring cup. Bake 8 minutes and let cool completely.
Make the cheesecake layer:

 

b

eat cream cheese until smooth. Add sugar and vanilla and beat until combined, then add cream and beat until medium peaks form.
Spread over cooled pretzel crust.
Make the strawberry topping: in a small saucepan, combine sugar, water, and cornstarch and bring to a boil. Boil 2 minutes, whisking constantly (mixture will thicken), then remove from heat. Add Jell-o and whisk until combined. Let cool 5 minutes.
Arrange strawberries in a single layer all over the cream cheese layer, then pour Jell-o mixture over, covering each berry. Refrigerate until Jell-o is firm, 2 hours.
2. Best-Ever S'mores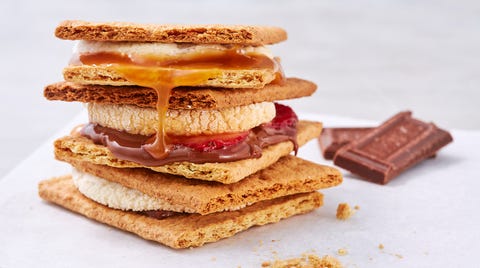 Ingredients 
4

 
marshmallows
4

 
pieces of chocolate (such as Hershey's)
Directions 
Break all graham crackers in half to create 8 squares. Place one square of chocolate on 4 graham squares. 
Place marshmallows on skewer or marshmallow roasting stick. Roast over open flame or grill until toasted to your preference.
Transfer marshmallow onto graham cracker with chocolate, then top with second graham cracker square.
3. Peach Dump Cake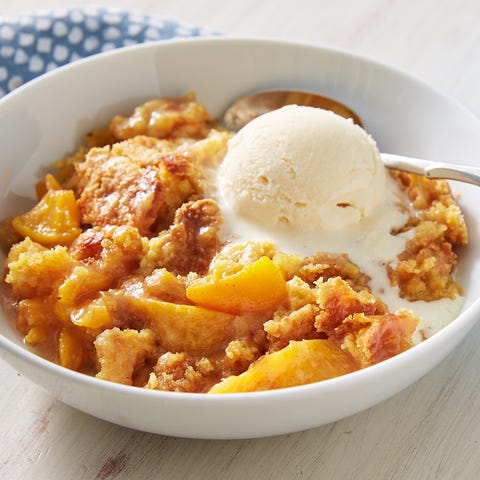 Ingredients
Cooking spray 
2 cans sliced peaches in syrup 
1 tsp. ground cinnamon
1 box yellow cake mix 
3/4 c. butter 
Ice cream served on the side 
Directions
Preheat oven to 350° and grease a 9"-x-13" baking dish with cooking spray.
Combine peaches along with syrup and cinnamon in a prepared baking dish and stir to combine. 
Pour cake mix over peaches in an even layer. Layer butter evenly on top. 
Bake until fruit is bubbly and cake is cooked through, 50 to 55 minutes. 
Serve with ice cream.
4. Coconut Ice Cream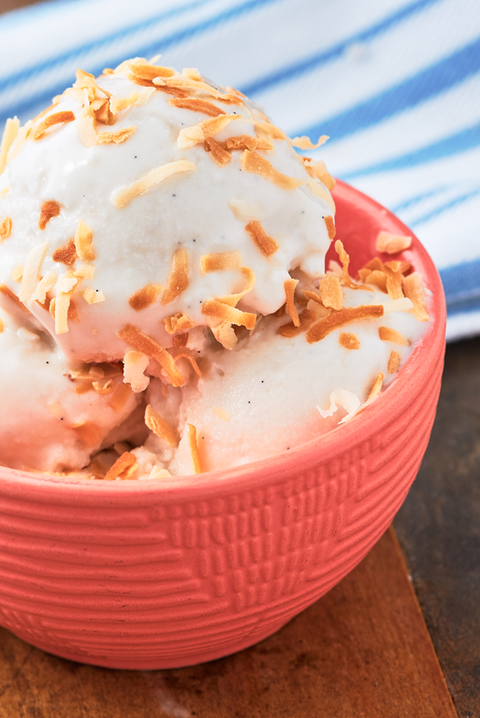 Ingredients
3

 
(13.5-oz.) cans full-fat coconut milk
1/3 c.

 
packed brown sugar
2 tsp.

 
pure vanilla extract
Directions
The day before you plan to churn, freeze the bowl of your ice cream maker. Since your ice cream base will need to chill as well, we suggest making it the night before, too.
In a medium saucepan over medium heat, add coconut milk, sugars, and salt. Using a paring knife, cut vanilla bean in half lengthwise. Scrape the inside out with the back of a knife and add to the coconut mixture. Bring to a boil and stir until sugars are dissolved. 
Place cornstarch in a small bowl. Ladle out about 1 cup of boiling coconut milk and add to cornstarch, whisking until dissolved. Pour slurry into the saucepan and stir to combine. Reduce heat and let simmer until the mixture is thickened about 3 minutes. To check if your mixture is thick enough, coat the back of a wooden spoon and swipe your finger through it. Your finger should leave a clean line. Remove from heat.
Whisk in vanilla extract, then pour the mixture into a large bowl and refrigerate until completely chilled, 3 hours and up to overnight.
When your custard is chilled and your ice cream maker bowl is frozen, churn ice cream according to manufacturer's instructions, about 15 minutes. When ice cream is soft-serve consistency, transfer to a freezer-safe container and freeze until hardened, 2 to 3 hours, up to overnight.
5. Cookie Dough Bowls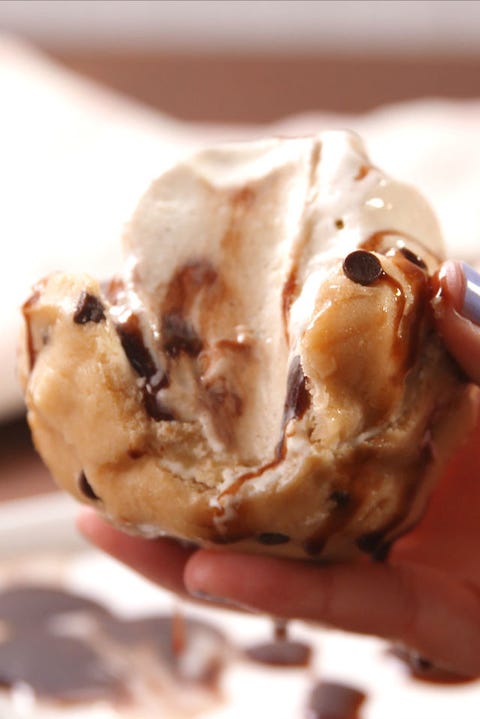 Ingredients
1 c. brown sugar
3/4 c. granulated sugar
2 1/2 c.

 
all-purpose flour*
1 tsp.

 
pure vanilla extract
1 1/2 c.

 
mini chocolate chips
Chocolate sauce for drizzling
Directions
In a large bowl, beat melted butter, brown sugar, and granulated sugar until smooth and pale. Stir in flour, milk, vanilla, and salt and stir until combined. Fold in chocolate chips.
Invert a 12-cup muffin pan and cover the bottom with plastic wrap.
Press about 1/4 cup of cookie dough around each inverted muffin pan cup to create a bowl. (Depending on how thick you make each bowl, you may only have enough dough for 9 or 10 cups.)
Place the whole pan in the freezer and freeze until solid, about 4 hours.
Scoop ice cream into bowls, drizzle with chocolate sauce, and serve immediately.
I hope you enjoyed these recipes. Comment your favorite below! If you're looking for more dessert recipes, check out the link below! I found all of the recipes mentioned above from Delish! 
xoxo, Dottie